Do you ever have those moments where you look around you and your breath is taken away as you realize just how blessed you are?
I had one the other day. We were just sitting around. Michael was playing that stupid Mario brother's game that he is obsessed with right now, Alli was waiting to be able to open a box or something on the game. Piper was tackling Michael from behind and Gabbie was sitting in the floor playing and laughing at her daddy and sisters.
All of a sudden, I got that knot in my throat that threatened to overflow the tears. I'm so blessed.
I have an amazing husband who works really hard to give us so much. He puts up with crazy whims and my annoying quirks. He loves our girls and would do anything for us.
Our girls are all happy and healthy. They are all so loving and they absolutely adore each other. They make our life complete.
There are so many times my life could have taken a different turn, but God guided me in another direction. I don't thank Him enough. I don't share of his amazing love enough. Often times I take what I have for granted.
I am truly blessed and truly am thankful.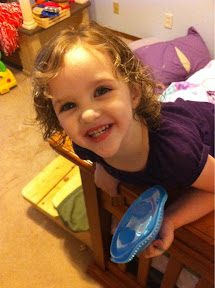 - Posted using BlogPress from my iPhone